FINANCE
Why Choose eKYC Services and Solutions for Modern Businesses?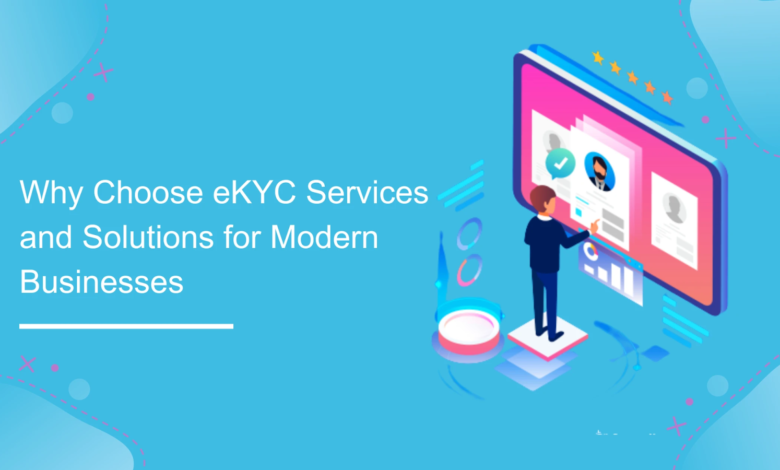 Gone are the days when you had to ask your customers to submit paper documents and wait for a couple of days for you to get them verified. Onboarding customers to your financial services was quite daunting in the past. But it doesn't need to be this way anymore.
eKYC is the perfect solution to this time-consuming process! In this age of digitalization, where everything is being automated, why leave out the FinTech customer onboarding process? With eKYC, customers can now onboard themselves to avail of your financial services without any hassle.
They just have to give in their credentials, and the system will do the needful to verify the same through biometrics or a one-time password. Isn't it simple? This would save you a lot of productive time, and your business would thrive with an abundance of customers.
However, some businesses haven't yet adopted the use of eKYC services, and this is because they aren't aware of its importance. So, let's dedicate this article to helping you understand the importance of eKYC services for your modern business.
Reasons Why You Should Choose eKYC Services for Your Business
Here are some of the reasons why you should prefer switching to digital KYC verification over the traditional ways, which includes:
The best thing about eKYC is the process is entirely digital, and there's no need for your sales executive to be involved in most parts of it. The customers can fill in their registration all by themselves and submit the documents as asked. Following that, the verification process will be initiated, and the data will be validated automatedly. And that's it! Your customers will be onboarded to your FinTech services.
Manual methods of verifying customer details might trigger the possibility of human error. The documents might mismatch, or there might be an error in recording customer data. With eKYC, all of those hassles are rectified, as the customer data will be fetched directly from the authoritative servers. Thus, the chances of fraudulent transactions will increase.
With the use of biometric verification, the eKYC process tends to be highly secure in comparison to the traditional methods. In some cases, the verification is also done through a one-time password, which is sent to the registered mobile number of the customer, adding two-way authentication for verifying the details.
When you are using an eKYC solution for your platform, the paper-intensive method will be eradicated. Thus, your organization will experience a reduction in operational costs, as you won't have to handle or store documents.
Conclusion
So, these are a few reasons why businesses should choose eKYC services for their modern businesses. All you have to do is get in touch with an agency that deals with eKYC API integration and get your business platform embedded with this facility.
To help you ease the process, FidyPay is one of the best service providers that will help you with better accuracy, enhanced efficiency, and more convenience. They have a team of experts to understand your business services patiently and suggest some other FinTech products ideal for your platform to enhance user experience.
You Might Also Like